Recently, I had the opportunity to chat (online) with Kathleen O'Hagan. Kathleen is a fellow allergy mom and has recently started a fantastic website called AllergyBites. She has opened up about her experience with food allergies and how AllergyBites can assist others in their food allergy journey.
Enjoy!
Elly

What is your personal experience and history with food allergies?
Until my son was diagnosed with food allergies at about 7 months old, I had very little experience with food allergies. I certainly didn't have a full understanding of how serious they could be. I thought it was rare that a food allergy was life threatening - now I know they're all potentially life threatening. I remember when my son first reacted to that lick of peanut butter (hives and a rash around his mouth), I assumed that the best plan was to continue to feed him little bits of peanut until he developed an immunity. Luckily, I checked in with some (more experienced) moms who told me to NOT expose him to peanut butter again, and to see an allergist ASAP. Thankfully, I listened to their advice. Since his diagnosis, I continue to read and research and learn. There is SO much I didn't know about food allergies, and still so much more to learn!
How has living with food allergies changed your family and lifestyle?
My husband and I were really into eating out before our son was diagnosed. We loved trying out new restaurants in the city, and even after having a baby, our date nights - though few and far between - would be at a new and delicious restaurant. I imagined instilling a similar love of, and curiosity for, new foods in my son. So I was devastated when we learned of his allergies, and how they would drastically limit his and our lives.
What is your main goal for AllergyBites?
I recall that one of the first things my husband and I did (after the diagnosis) was get online and search for safe eating spots in Toronto. Unfortunately, other than a few outdated blog posts, there was very little information out there. And yet, we live in a very progressive, accommodating city - so it really surprised me that there wasn't one spot where I could find everything I needed.
After wallowing in self pity for a few months, I decided to fill that gap and create a place where foodies and families could come to find safe eating spots in the city (and if all goes well, eventually the country?).
I've branched out in my thinking since the idea was first born, and would now also like to include allergen-free and/or allergy-friendly products, brands, shops, grocery stores - if it's allergy-friendly, I want people to be able to find it on my site. Families with food allergies are busy enough… this could save them a bit of time and hopefully make life a little less stressful and a lot more fun!
What were your biggest challenges when starting AllergyBites and what challenges continue?
Having enough time to do everything I want to do is my biggest challenge. It used to be so easy to just run out the door and go to a restaurant. Not the case anymore with a toddler! So finding the time to go to all the allergy-friendly eating spots in the city (I actually have a pretty big list!) has proven quite difficult. That's why I'm looking for foodies who love to write - or writers who love to eat - who might be interested in volunteering their time to write a few reviews for my blog. I may even be able to reimburse a portion of the meal in some cases! I'm asking those interested to get in touch.
What do you feel is the biggest barrier for those living with food allergies?
I would say it's not being taken seriously by a large portion of society, and as a result, being made to feel like we're overreacting or receiving little to no empathy by strangers (like waitstaff or airline attendants), or sometimes even family and friends. That's probably because the education and awareness isn't there.
I don't even think GPs are communicating the right messages to their patients. When I think about my doctor's advice to feed my son a lick of peanut butter at 6 months, I still cannot believe she didn't provide me with an emergency plan in case of a severe reaction. I didn't think to ask because I didn't believe this would happen to my family. It's really unbelievable how unaware we are as a society, and I definitely think more education (and compassion) would make life a little easier for those living with food allergies.
What are your go to places for food allergy support, products and services?
Because my son has an allergy that isn't in the top 8, it is proving difficult to find a go-to brand. Most of the "allergen free" stuff out there has sunflower oil in it (one of his allergies). If it's not sunflower, it's soy.

Although sunflower is a more difficult allergy to accommodate, I have come across some great products at No Nuts About Us - in fact, I'll probably go ahead and buy the Enjoy Life pizza crust for my little "pi-cha" lover this month, to take advantage of the promo they have going on for Food Allergy Awareness Month!

In terms of eating out, we've had great success at Famoso Pizzeria because they can pretty much accommodate all allergies (which is amazing). Swirls Cupcakes is able to customize their baked goods for us and do an egg-free version for an extra fee. Of course, I continue to seek out allergy-friendly eating spots in the city so that I can share them with the allergy community via my blog.

In terms of support, there are some great support groups on Facebook - I honestly don't know what I'd do without them. I've met some pretty wonderful people (both in person and digitally) that have made my allergy journey a little easier. Most recently, I met and chatted with a counsellor who provides support for families with food allergies. I think it's an amazing service, and will definitely consider bringing my son to speak with her once he is old enough to understand his situation.
Anything you'd like to add?
Just a note to parents who are newly dealing with a food allergy diagnosis. I know it feels absolutely awful right now, but you'll be amazed at how quickly you adapt. Soon, reading labels three times over and asking a million questions will become your new norm. It's not as bad as it seems! Always remember, you have a community of other allergy parents who are there to support you if and when you have questions or just need a little bit of encouragement. Here are a few great groups to check out:
Parents of Kids with Food Allergies in Toronto/GTA
No Nuts Moms Group of Ontario, CAN
About Kathleen: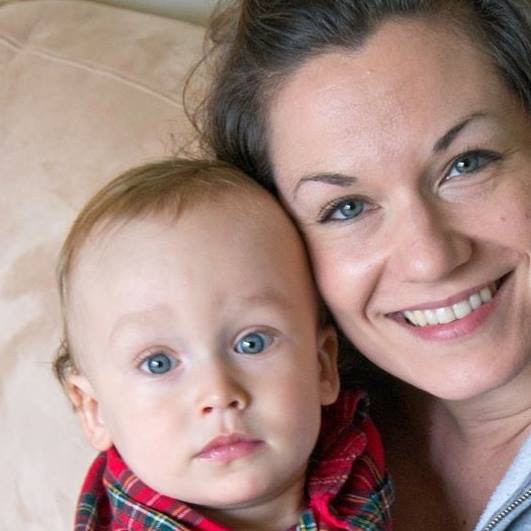 Hi, my name is Kathleen. I'm a Toronto-based writer, a foodie, and most recently, a mom.
Before I had even met my baby boy, I dreamed of the day we'd enjoy "Foodie Fundays" together. I imagined we'd spend Sunday afternoons—just the two of us, trying out new and delicious restaurants in the city.
That dream died the day he was diagnosed with several food allergies (peanut, tree nut, egg) followed by more months later (sesame, soy, sunflower). Not only that, but something as simple as running into a cafe in between errands became a scary, stress-filled event. Was I putting my child in danger by simply walking into a coffee shop? Needless to say, I was devastated.
It took a few months before it hit me: It didn't have to be this bad. 1 in 5 children have a food allergy, so I knew there'd be a community of like-minded parents wanting the same (safe) experiences for themselves and their children.
I decided then and there what my mission would be: to help parents of children with food allergies find allergen-free or allergy-friendly restaurants, bars and cafes in Toronto—and to let them know which spots should come with an allergy alert!
If you've found my site, you're probably one of those struggling foodies or families. I sincerely hope this guide makes your allergy journey a little bit easier. And, if you have an eating spot you'd like to add to the guide, please get in touch and I'll make sure to include it.
Safe appetit!
Kathleen